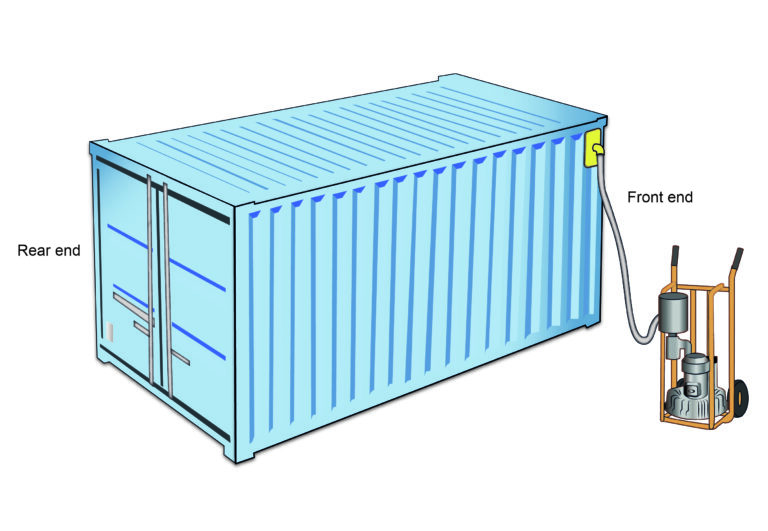 The evaQvent method
Our specially developed evaQplate® (UK patent pending) is simply connected to a dedicated extraction fan. Turn on the fan and position the evaQplate over one of the corner vents of the container. The evaQplate has a rubber seal around its edge and held in place by the vacuum created. The contaminated air inside the container is extracted and replaced with fresh outside air via other open vents and other unspecific openings.
The evaQplate®
The Vacuuplate® come in two different designs.
The standard evaQplate is attached by simply positioning over the corner vent. This is useful when the vent is comfortable reached by the operator from a small step ladder. Watch this video.
A sliding version allows  installing the evaQplate® at height, typically when the container sits on a trailer. The evaQplate is  attached to a telescopic pole to which the first section of the suction tube is attached. 

Show video of attaching standard evaQplate

http://media2.evaqvent.com/2019/11/urban-monterar-sugplatta.mov

Show video of sliding evaQplate


Extraction unit from Corroventa AB
We collaborate with Corroventa AB and offer a complete ventilation package. The Corroventa T2 Turbine provide excellent extraction of container air for most situations.  For goods with excessive on-going emissions the model T4ES provide additional extraction capacity. Both models work with 240V.

More about Corroventa Turbines


Peripherials
The vacuum indicator changes color from yellow to red to indicate if the vent is taped from the inside causing blocked air flow. It is connected in-line between the evaQplate and the Corroventa extraction unit.
Read More
Order your ventilation package online
A few simple steps and your ventilation package will be on its way. A basic package will consist of a Corroventa T2 extraction unit, a standard evaQplate and 20 meter  50mm spring reinforced suction hose.
Optionally you may want to order the evaQplate with the pole extension, the Vacuum Indicator, a container gas sampler probe, a remote ON/OFF switch.
Read More