Hazardous chemical gases are invisible and most have no odor or other warning properties. No low-cost, easy to use instrument can detect all types of chemicals. Use of expensive, advanced instruments is the only way.
CHEMICALS IN CONTAINER AIR CAN CAUSE SERIOUS HEALTH EFFECTS
A shipping container is very tight with practically zero ventilation. If hazardous volatile chemicals are "naturally" present in the goods or packing material, they are emitted during transport and accumulate in the container air.
Moreover, highly toxic so-called fumigants may have been deliberately added to kill insects. A warning for fumigation, although required, is often lacking. Entering a fumigated container is a life-threat.
We investigated the container air in several hundred shipping containers arriving in Sweden and detected nearly 50 different chemicals, many of them cancer-causing,. One out of eight containers had levels of one or more chemicals above, sometimes far above, the occupational exposure limit.
We supply all you need to pre-ventilate shipping containers.
We perform cutting edge R&D on hazardous gases in containers.
We help with installation, advice and practical tips.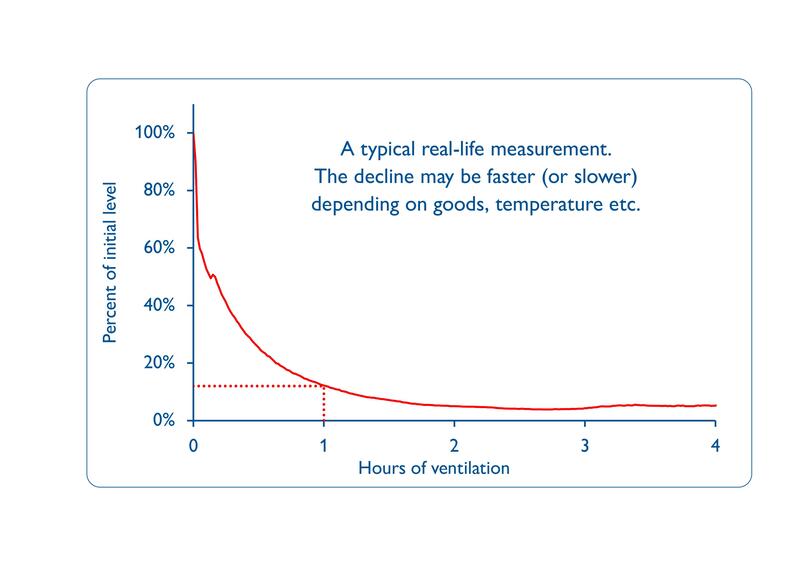 Not sure if safe?
Pre-ventilate!
If your container has not been clearly shown to be safe it should be pre-ventilated before you enter.
PRE-VENTILATE WITH CLOSED DOORS!
Pre-ventilation is done before the container doors are opened. This lowers the level of chemicals in all parts of the container and eliminates the high peak exposure otherwise seen when opening a container. The extracted air is evacuated to the outside to avoid contamination in the warehouse.
The goods continue to release chemicals. You should continue the pre-ventilation until the container doors are opened.
Get in touch with Evaqvent